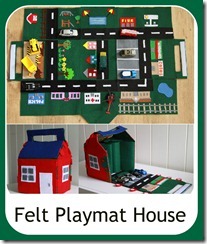 Felt Car Play Mat & House
A carrier or play mat is such a great thing to have around!  They are loved by the kiddos.  Their imagination can run wild with the roads, houses, and possibilities.
This play mat is the mother load of the play mats!  There is a whole bunch of things to excite the mind and it all fits into the house carrier!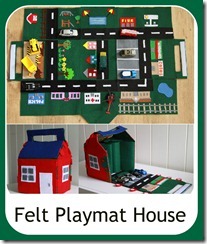 Supplies for Sewing:
25×30 inch (62.5 x 75cm) piece of green craft felt
2 sheets of red felt 
1 sheet of blue felt 

Medium weight iron-on interfacing 

Sheets/scraps of different colours of felt 

Tacky craft glue 

Velcro 

Quilters chalk