I have for years been a big fan of One Red Robin patterns.  They are very sweet and usually pretty simple.  The use of imagination in her stuffed owl pattern is no different.  It says cushion, but don't be afraid of sewing him up with the intention of calling this stuffed owl a plushie!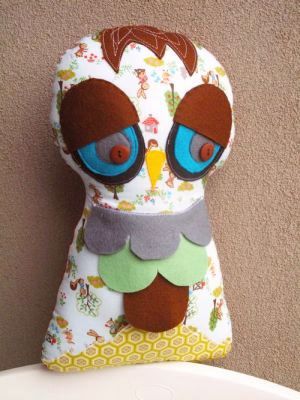 The layering technique for both the eyes and the feather on his front are a great addition.  Use your bits of wool felt for that and don't be afraid to experiment in different colors for different looks.  Everything is sewn down securely so it is pretty kid friendly too.
I am thinking you could make a few stuffed owls and have them on hand for quick and ready to go presents.
You can find how to make a plushie here:
--------------------------------------------------------------