Ready to customize your handmade doll with yarn hair?
It's pretty simple!
You'll find a lot of options with this tutorial…plus, use fun yarn like this multi-colored for more interest and fun.
Doll hair is always super fun, but can become a little complicated.
What kind of yarn do I use?  
This is such a fun question really! There are so many options now with color, feel, design, kinks, curls, scraggly– the list go's on! Taking a trip to the local craft store and browsing the aisle of the yarn will help you get a good idea of what's out there and help you make a choice.
Yarns that are polyester will hold up a little better than cotton, but that doesn't mean you can use it. It's about exploring and testing and having fun.
Also- don't think that you'll need 'realistic' colors for your hair. There is something fun about a little doll having rainbow or blue hair instead of the typical yellow for blond. Think outside the box on this one!
What style is best?
curly? long? straight? bangs? All of these really depends on the style of doll you are making and how you want it to look.  Yarn can be used for most of these, but there are other options as well- mohair, a wig style, or sewn style. Explore your options before settling on the final plan.
Is the doll for play and what age is the owner?
Go with yarn for the younger aged doll lovers. They are going to be the hardest on the hair and yarn really holds up well.  The thicker yarn is easy to grab and quickly style into a pony. Perfect for playtime.
Supplies to make yarn hair:
How to Make Yarn Hair for Dolls tutorials:
What you'll find in the Everything You Want To Know About Sewing Dolls & Plushies series:  Free tutorials, multiple options, ideas, inspiration….
How can you participate in the series: 
1- Facebook group (free to join)– join here
2- Follow along with this series by email— join here (also includes the Plushie Resource Library!)
How else can you help out? We'd love to make sure that we are hitting all the topics that you need and have an interest in learning!
Is there a topic that you'd like covered?
We'd love to hear about it- drop it in the comments!
Want to remember this? Save the Plushie 101 Series to your favorite Pinterest Sewing Board!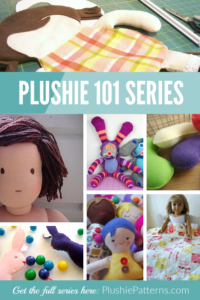 --------------------------------------------------------------