Let's explore making shorts and pants today!  It really is about the pattern and the fabric.  Both of those work together to make your clothes outcome great.
The tricky part of shorts and pants is really the crotch area.  The construction and process can be a little confusing, but they follow the same steps as regular pants. I found that after making one or two pair, I had the process down and understood.  Moving forward, I was confident in my pant sewing abilities.
Making Short and Pants for Dolls and Plushies
Fabric for pants and shorts
Really, when it comes to clothes anything goes.  Explore your scrap bin or shelves for some fun fabrics. Polyester, knit, lace or cotton or any combination is perfect really.  With anything that has a stretch you do need to pin a bit to keep things straight.
What helps the most is a good tutorial and a good pattern template.
The print on the fabric also needs to be considered.  Keep with small or tiny print as they will look more realistic and cuter. When using a large print, it will look totally different and maybe not what you planned.  The design will get cut off and it won't be as successful as using a tiny print fabric.
Denim- use the light weight denim when ever possible. Pants and shorts are small, and the legs on the pants are skinny- if you are using a heavy weight fabric this will give you issues and it's not fun! Whether with denim or any other fabric, go for light weight.
Fleece? no.  Too heavy.  Great for blankets and pillows- not so much for clothes. Possibly a coat or vest, but nothing that can't handle the bulk of the fabric. Some fleece also has a stretch- be aware of that!
When to use knit fabric- these are great for leggins or pajama pants. They are soft and cozy, but do have a stretch.
Tutorial for using knit fabrics
Laminated fabric- this is great for outdoor wear.  Maybe not so much pants, but ponchos are great.
Embellishments for pants and shorts
You can have some fun here!
Pants and shorts are great for featuring some fun patches, embroidery, designs on pockets on the back.  You can even explore some fun snaps or buttons for the front area.
If you are adding pant loops you can also add belts, scarf belts or whatever!
Adding embroidery before you cut the template pieces out is best. You'll have the largest space and piece of fabric. This works with both sewing machine embroidery or hand embroidery.  You can add embroidery designs to the back pockets, at the knees or other random spots on the pants.
Patches are a fun addition too.  These can be traditional patches – these are a great alternative if you don't have an embroidery machine, or they can be a simple piece of fabric patch. You can decide to fuse or simply stitch them down.  One thing to consider- is their thickness. Embroidered patches are a bit thick and may give issues with you start construction. You don't want them to fall in a seam or in a spot where turning the clothes right sides out will give you issues.
Embellishments aren't your style? Then use some fun fabrics! There are so many to choose from and really can add some fun to the pants and shorts your are sewing up.  Play with the placement of the pattern with your templates before cutting. You may find some crazy designs that happen at the seams that you didn't expect.
Doll Pants tutorials
Doll Shorts tutorials
shorts- great look at embroidery accents
What you'll find in the Everything You Want To Know About Sewing Dolls & Plushies series:  Free tutorials, multiple options, ideas, inspiration….
How can you participate in the series: 
1- Facebook group (free to join)– join here
2- Follow along with this series by email— join here (also includes the Plushie Resource Library!)
How else can you help out? We'd love to make sure that we are hitting all the topics that you need and have an interest in learning!
Is there a topic that you'd like covered?
We'd love to hear about it- drop it in the comments!
Want to remember this? Save the Plushie 101 Series to your favorite Pinterest Sewing Board!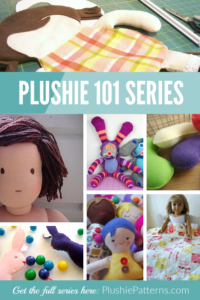 --------------------------------------------------------------